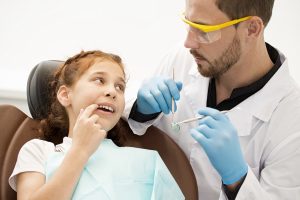 Teeth are meant to last a lifetime, and good dental health begins with regular checkups at Pediatric Dental Center.
We recommend a child's first dental visit when as soon as the first tooth comes in, or by the first birthday. An early check is the first step in preventing troubles and setting the stage for lifelong dental health.
As children begin this lifelong journey, we start keeping meticulous records of their dental health, including the development of their jaws. This usually includes dental x-rays. We also share information with parents.
The condition of a child's teeth can change fairly quickly. A slight change in diet or habit, like thumb sucking, may be noticeable after just six months. Suh issues can make the child vulnerable to tooth decay or jaw development problems, so the sooner we can identify them, the better.
Lots of parents wait too long to start bringing their children in for a checkup. This can have serious consequences. Kids should see the dentist twice a year, just like their parents should.
At Pediatric Dental Center we emphasize preventative care, and identifying problems before they get serious. We want all our young patients to enjoy excellent dental health and offer complete in pediatric dentistry. We have offices in Burlington, Cold Spring and Crestview Hills KY. Call for an appointment today!
Contact Pediatric Dental Center:
Location (Tap to open in Google Maps):